Mindset is what set a champion apart from everyone else. The best athletes can "push through the last three or four reps." But when you're training heavy and often, it's natural to hit a wall sometimes. Physical and mental exhaustion can just happen.
If you're struggling, amino acid energy supplements could boost your focus and recovery. With a champion's mindset and a healthy diet, the right supplements with natural caffeine sources can help you perform to the last rep.
Things to Keep in Mind Shopping for an Amino Acid Energy Supplement

Twenty different amino acids are the building blocks of dietary protein. Intense exercise depletes your body of aminos. When amino acid energy or BCAA supplements are ingested by athletes, researchers theorize it can:
Support anabolic hormone release
Accelerate muscle building and fat loss
Protect against physical overtraining exhaustion
Guard against mental fatigue
Bodybuilders, powerlifters and endurance athletes are the typical customers for Amino Acid Energy supplements. During tough periods, such as competition prep or weight cutting cycles, these can provide an advantage inside and outside the gym.
While it's always wise to discuss supplement options with your Physician, taking an Amino Acid Energy is likely safe unless you suffer from osteoporosis or impaired liver function.
However, one supplement sold as "Amino Acid Energy" may not have the same ingredients as another. To ensure you get the recovery and mental edge you need, it's important to explore your options and read reviews before you spend money.
Amino Acid Energy Product
Some popular powdered supplements for athletes are formulated with amino acids and caffeine. These supplement is designed to support "muscle endurance and recovery."
If you're new to taking an amino-based pre-workout or recovery supplement, these options may be at around $18.99 for 30 servings. Be warned, some widely-sold options may not best fit for athletes on a cutting cycle or in active competition prep. The amount of sugar per serving isn't disclosed on many flavors.
Pros
Can be used pre-workout, post-workout, or for energy any time.
Can be purchased in many different sizes.
Sold pre-mixed in bottled, liquid form.
Cons
Sugar content is not disclosed on original flavors.
Contains food dyes and synthetic additives.
Do not contain natural caffeine sources
Do not contain electrolytes for recovery hydration
Does not contain herbal or adaptogen-based fat loss blends.
Amino Acid Energy: Features, Benefits & Reviews

Each two-scoop serving of one supplement contains 5g of an Amino blend and 160 mg of caffeine. A great supplement is one that works, but it also needs to taste great and help you crush your goals in the gym.
1. Energy
To use this supplement for energy pre-workout, 1-3 servings is recommended. Proceed with caution, considering that 160 mg caffeine is the same as a 16-ounce energy drink.
"This is my go-to amino acid supplement for morning workouts. It really gets me through the whole workout without feeling hungry or fatigued" writes a verified buyer. Other reviewers report "no jitters, just good energy!"
2. Recovery
For recovery, a serving of Essential AmiN.O. can offer 5g of BCAAs. One buyer writes it "works great for recovery... I am even able to get through 45 mins of cardio and a heavy lifting day without feeling like I destroyed my body."
Several buyers prefer to use this supplement for intra-workout energy. One says "It gives me that little extra boost of energy to push through tough workouts, and I feel like it also helps a little with recovery."
3. Flavors
There's a ton of flavor options, and opinions vary significantly. One happy buyer of the peach lemonade flavor gushed "Wow, this flavor legitimately tastes like peach rings and I am SO happy about it."
Blue raspberry and green apple also had lots of fans, while reviews of natural peach tea and lemonade tea were significantly more mixed. Others recommended flavor hacks to hide the taste. One reviewer says it "helps the flavor tremendously" to mix the iced mocha flavor with chocolate whey protein powder.
Other Benefits and Reviews of Essential Amino Acid Energy
Some common Amino Acid Energy supplements aren't just a bodybuilding support. Plenty of people use it for energy-only purposes. "I use this product for night school," says one buyer, while another admits " it has helped me kick my expensive Monster rehab addiction!"
If you struggle to chug down drink mixes quickly, seek out an option that mixes well. One buyer writes "I add 4 scoops to my gallon every morning and [it's] perfect! Not too concentrated and not too much caffeine."
What Real Amino Acid Energy Users Say
If you're new to BCAA-based supplements, an affordable amino acid energy a pretty common place to start. While the feedback on flavors is decidedly mixed, this supplement has plenty of loyal fans among both gym-goers and caffeine addicts. If you can handle a little sugar with your supplementation and don't mind sampling flavors until you find the right one, this option might fit your needs.
Alternatively, if you are a performance athlete with serious goals when it comes to recovery and reps, you may be better served with a superior formulation that offers natural sources of caffeine, a non-stimulant fat burning complex, and a hydration blend.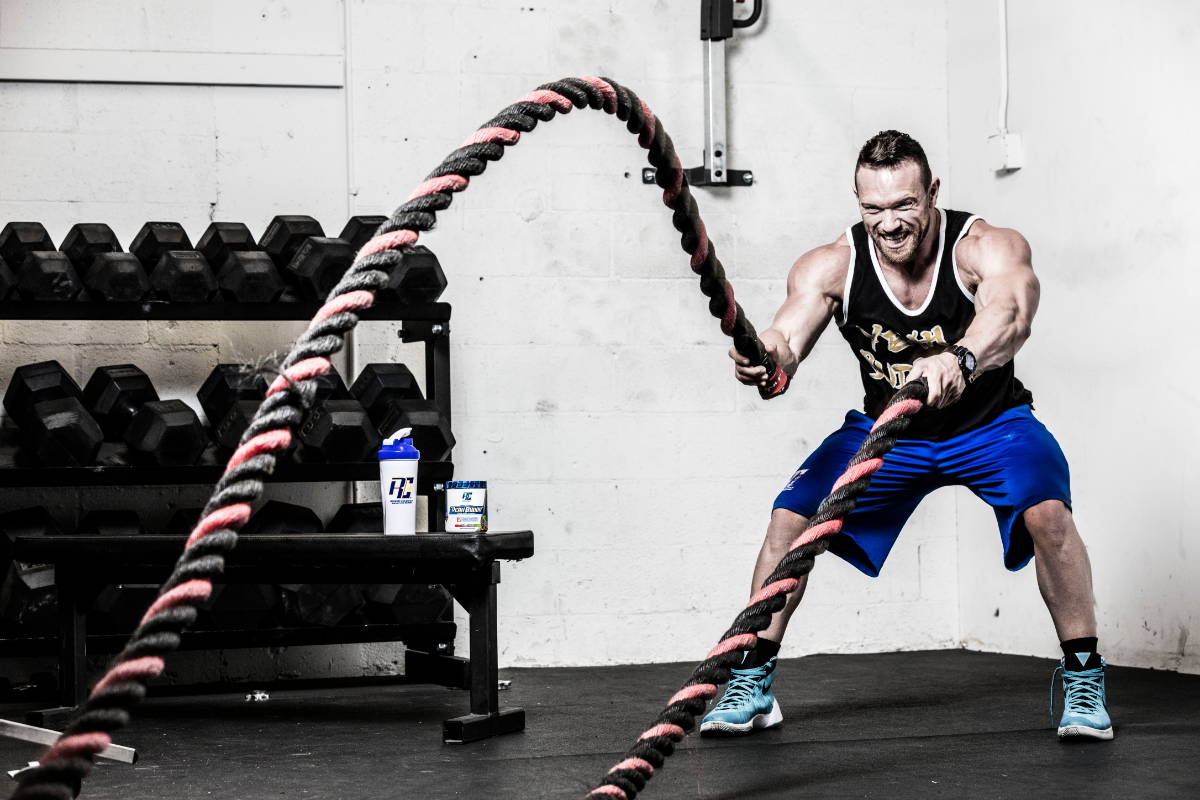 Alternative Amino Acid Energy Supplement: Amino Tone + Energy

Ronnie Coleman Signature Amino Tone + Energy is a powdered supplement mix with natty caffeine, amino acids, herbal supplements, and a "stim-free" fat loss complex. This supplement is an "anabolic amino acid + metabolic enhancer," designed to support muscle-building, muscle-recovery, and fat loss goals among performance athletes. Amino Tone + Energy is a reformulation of Amino Tone. The difference is the inclusion of caffeine to target fat loss and energy during workouts and recovery.
If you're a serious bodybuilder or an athlete in an active competition cycle, this supplement can help you achieve some serious goals. An Amino Acid Energy supplement can't replace hard work in the gym, but it can give you the edge you need to perform at a peak level. Amino Tone + Energy costs $49.99 for 30 servings.
Features
Contains the three essential BCAAs to support performance and recovery
Amino Acids are "instantized" to mix and be absorbed more easily
Provides natural caffeine sources to support performance and fat loss.
Offers stimulant-free fat loss support ingredients like ketones and inositol
Contains Maca for hormones, immune system, sexual function, focus, and memory.
Includes a hydration blend of common electrolytes to support hydration
Amino Tone + Energy: Features, Benefits & Reviews
Ronnie Coleman Signature positions Amino Tone + Energy as a multi-purpose supplement for pre-workout performance, post-workout hydration and recovery, and intra-workout focus. It has non-stimulant fat-loss support features that won't keep you awake all night.
Unlike alternative supplements, Amino Tone + Energy has adaptogens-- Rhodiola Rosea Extract and Maca Extract for stress release. This can translate into better mood, focus, and performance.
1. Performance
With 125MG of natural caffeine per scoop serving, Amino Tone + Energy packs about the same amount of caffeine as 12 ounces of Red Bull or Monster. This caffeine comes from Green Tea and Green Coffee Bean Extract. In addition to performance, these caffeine sources may support healthy fat loss and metabolism.
Buyers report positive experiences using Amino Tone + Energy for pre-workout performance. One writes it "helps me keep my energy level up so I can get in more reps when training."Some reviewers believe that Amino Tone + Energy's unique formulation was also integral to reaching body recomposition goals. One buyer writes "This stuff is great for shedding pounds... I lost 80 pounds on this."
2. Recovery
The BCAAs in Amino Tone + Energy support recovery, but the electrolyte mix can rehydrate athletes after sweaty lifts or cardio. Adaptogen and natural herb extracts target "prep brain" or the mental fog we all fight when we're training hard.
The feedback on Amino Tone + Energy's impact on heavy training is positive from buyers. One writes you "really feel the results while you are training." According to another "I've taken many types of aminos in the past, but these far outperform in taste, mixability and, of course, function."
3. Flavors
There are four flavors available. While that's fewer than other options, there doesn't seem to be any unpopular choices. One Unicorn Juice buyer reports "the flavor is delicious." Another writes "The Mango Pineapple tastes great."
What Real Amino Tone + Energy Buyers Say
Real buyers of Amino Tone + Energy are happy with this supplement's benefits for energy, performance, and focus. One writes its "One of the best things I've... taken." Another says it's her "go-to" writing she has "repurchased several times and will continue to do so."
Conclusion: Selecting the Right Amino Acid Energy Supplement

If you've got serious goals in the gym and a work ethic to match, Amino Acid Energy supplements may help you recover, focus, and build muscle. The right supplement can provide a performance edge and help you stay alert.
While low-cost Amino Acid Energy options are a popular basic supplement for gym newbies and first-time supplement users, Amino Tone + Energy may be the better choice for serious athletes. The naturally-sourced caffeine can support fat loss while BCAAs aid muscle-building and recovery. Amino Tone's unique adaptogens can target stress and improve the champion's mindset.
To check out Amino Tone + Energy, click here.